Frequently Asked Questions About VA Disability Benefits
Q: Who is eligible for VA Disability benefits?
A: The Department of Veterans Affairs (VA) provides and facilitates disability benefits for people with a previous active duty designation, duty for training or inactive duty training. You must also have a current disability rating for your condition.
One of the following situations must also apply:
Your illness or injury began while you were serving
An existing condition worsened while you were serving
You started experiencing symptoms of an illness or injury within 12 months after your service that was a direct result of your service
The VA will review your information and determine whether you are eligible to receive disability services.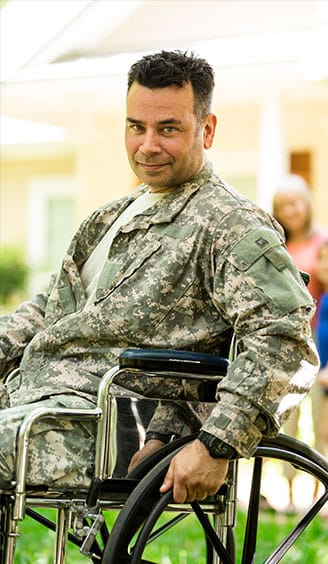 Q: What is a disability rating?
A: During the application process, you will be assigned a disability rating that reflects the severity of your disability. The rating is based on the information you provide, the results of an exam and information from sources like federal agencies regarding your disability.
Q: Does the VA look at my service history?
A: The application process does take into account your service history. Some circumstances may prevent you from receiving benefits, including:
Dishonorable discharge
Injury or illness that occurred while absent without leave (AWOL) or during other misconduct
Injury or illness that occurred during court-martial detainment or other detention for misconduct
Q: What kinds of disabilities qualify?
A: Many illnesses and injuries qualify for VA Disability benefits, including:
Chronic back pain
Severe hearing loss
Post-traumatic stress disorder (PTSD)
Depression
Anxiety
Talk to a skilled attorney to learn more about whether your specific condition, illness or injury qualifies.
Q: How does the VA determine how much I will get?
A: During the application process, you will be given a disability rating based on the severity of your disability. That rating will determine how much compensation you receive.
Q: How soon will my benefits start after I am approved?
A: Typically, it takes about 125 days for a decision to be issued on your disability claim. Some claims move through the process faster than others, some slower.
If your claim is approved, there will be an effective date. Several factors impact when your benefits start depending on the type of claim.
Q: Can I also qualify for other disability benefits, like Social Security Disability?
A: Since your VA benefits are connected to your service, not your income, it is possible to still qualify for Social Security Disability, too. There is a separate application process for both to determine whether you are eligible, but qualifying for one does not exclude the other.
Q: If my claim is denied, what can I do?
A: If you disagree with the decision on your claim, there is an appeal process. Talk to a knowledgeable attorney about what to do and the next steps to take to make an appeal.
DISCLAIMER: This site and any information contained herein are intended for informational purposes only and should not be construed as legal advice. Seek competent legal counsel for advice on any legal matter.